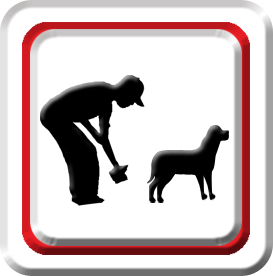 Facts about dog waste - chemical breakdown and prevention.
Piles of dog feces in your yard not only look bad, smell bad and pose a walking hazard, but they also are unhealthy. Feces can contain Coccidia, E.Coli, giardia, hookworm, salmonella, tapeworm, whip worm, heart worm and other parasites like fleas and ticks.
Our service is a great way to prevent Toxocariasis.  Many dogs will even eat leftovers from themselves or other animals (Coprophagia).  A pile of dog poop in your yard decomposes very slowly because of its protein base. This creates a thin layer of methane that gives off plenty of heat for worms, maggots, centipedes, black beetles and a whole host of others to lay their eggs and hang out in. If your dog is not 100% vegetarian - this protein (meat) based diet is a haven for insects.
Having your yard clean at least once a week severely cuts back the chances of children catching a Zoonotic disease.
If your dog eats these health threatening items, it goes directly to where the problem can start - in their stomach. It also is a huge contributor to excessive waste water run off contamination. The piles can also attract rodents, raccoon's and vermin on to your property.
One pile of dog waste can take up to 9 months to fully break down to blow into the atmosphere and deteriorate into underlying soil.
"Being a dog professional, installing underground fences and working on a daily basis, I see the need for Dog Gone It Yard Duty up close and personal. I refer all my clients to Tom and his services as part of my first visit to a client, or potential client.
Based on genetic studies in 93-96 concluded that 95% of fecal coli form found in urban storm water was not of human origin. This bacterium can pose health risks to humans and other animals, and result in the spread of disease. It has been estimated that for watersheds of up to twenty-square miles draining to a small coastal bays, two or three days droppings from a population of about 100 dogs would contribute enough bacteria and nutrients to temporarily close a bay to swimming and shell fishing (USEPA). Pet waste can also be a factor in eutrophication of lakes. The release of nutrients from the decay of pet waste promotes weed and algae growth, limiting light penetration and the positive growth of aquatic vegetation. This in turn can reduce oxygen levels in the water, affecting fish and other aquatic organisms.
Dog waste is a huge problem and as such takes a professional, like Tom and his staff at Dog Gone It Yard Duty, to handle".
Bob Lehman- Contain-A-Pet
There are many benefits of staying on board with our service through each season.
1, We can alert you to any changes in your pets stool that may be hazardous to their health
2, We pay special attention to favorite "spots" on our snowy visits
3, When we are on your property in Winter we can remove fecal matter as it freezes and thaws
4, We can limit the amount of "stuff" that has the potential to come into your house on the carpets along with harmful microorganisms it contains.
5, By us being on the property weekly you will not have to rush to get things done in the upcoming Spring. It will already be done.
6, Dog Gone It walks patterns in the snow that many dogs will walk in to do their "business". This keeps it as pleasant as possible for them in the colder temperatures.
7, Our service drastically cuts down the chance of children catching Zoonotic diseases
8, You simply won't have to worry about it!
9, We are still the least expensive service in the Tri-County area thus saving you lots of money!
10, We keep an eye out for any suspicious activity in our communities

Don't Miss Out On A Bargain!
Contact us today and let us make things easier for you and your special four - legged companions!